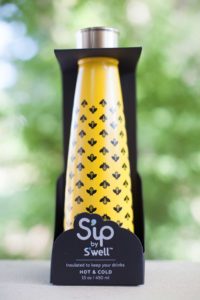 I received this cute little S'ip by S'well water bottle as a Mother's Day gift from my son. I love that it has little honey bees on it. I try to use reusable water bottles whenever possible so this was a perfect gift for me. We are not paid to do reviews of products, but when we love something we like to share it with you.
So, this is my quick review…
This bottle is called "S'ip" and is made by S'well and holds 15 ounces. You may or may not have heard of S'well, but their water bottles are very trendy right now. I have to admit that I have found myself ogling over their wood grain bottles. They are just so pretty and different from the run of the mill water bottles out there.
The S'ip line has carried on that chic and unique look that S'well is known for. I have gotten tons of compliments and it has made for a great conversation starter.
Having a good looking water bottle is one thing, but function is key. I like the way the shape of the bottle tapers in at the top. It makes it easy to grip in your hand and carry.
The packaging claims, "With our added technology, your bottle is built to keep your favorite drink at just the right temperature."
I have to agree with this statement. I took the bottle with me to the lake and my drink stayed cold all day. I also tried a carbonated beverage with the same results, cold and bubbly all day.
The package also claims the bottle keeps drinks hot. I have to admit, I find the shape of the bottle to be not conducive to drinking a hot beverage out of, but for the sake of this review I tried it out. I boiled some water at night and poured it into the bottle. Let me stop here and say that it was a bit cumbersome pouring a hot liquid into such a small opening. I had to set the bottle in the sink and pour so as to not spill everywhere. Hot or cold you also have to be careful to not over fill this bottle. You cannot fill it to the top because as you can see in the picture the cap has a plug that plunges down into the bottle.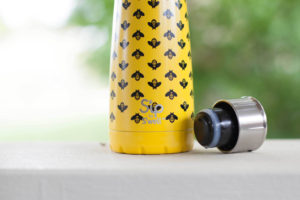 If you over fill the bottle at all the liquid will come spilling out when you try to put the cap on. The right level can be difficult to gauge and needs some getting used to.
So, I filled it up with the hot water, put the cap on and went to bed. I was amazed to find that 9+ hours later the water inside was still incredibly hot. Success!
Overall I love this bottle. The overfilling can be annoying, but the fact that my water stays cold all day, it's easy to carry and it looks great, makes it a winner for me.
And it's bee approved too…